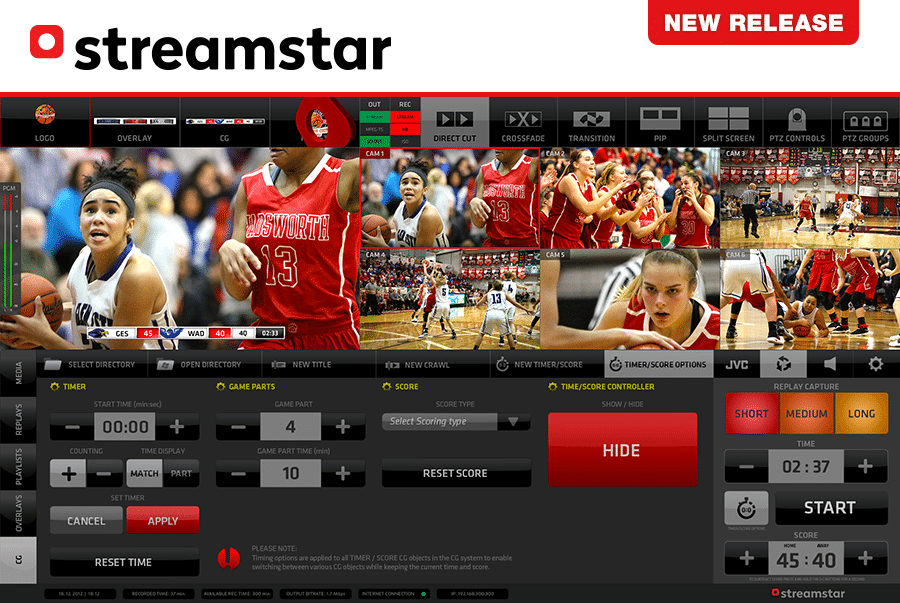 Streamstar SW 4.5 upgrade brings LIVE TIMERS, SCORES & SPORTS GRAPHICS TEMPLATES to give you the most powerful, all-in-one, live sports streaming solution.
Regardless if you are a small production company, university sports club or a big TV station, these days viewers expect professional, broadcast quality programs. Even more so if you are in live sports streaming.
Streamstar SW 4.5 delivers a live sports production package that puts you in control of the game.
A new timekeeping and game management addition to Streamstar's internal CG system enables you to easily create professional live sports graphics with unprecedented ease and speed. It provides precise time and score controls, and beautiful, custom designed, ready-to-use sports graphics templates for instant use in your productions. You can start a new game within seconds without worrying about the graphics. Just type in the team names and you're ready to rock n' roll!
Watch a short video with samples of Streamstar's sports graphics templates:
If you want to use your own graphics you can import them into the Streamstar system with just a few clicks. Photoshop and After Effects templates are available for download to make it super-easy for you to customise the supplied graphics.
The Streamstar SW 4.5 update will be presented at IBC 2017 and it will be available free for all existing customers.
Streamstar – SMARTER FASTER EASIER