Streamstar is announcing the release of the HOCKEY Live Broadcast Graphics module for the Streamstar SCOREPLUS live sports graphics platform.
So the "BIG" Hockey League contracted you to produce and stream their whole season. And the first game is coming up this Friday already. You know you have no time to fuss around. But you keep calm. You get the brand new Streamstar SCOREPLUS – Hockey Module. And you know you can produce amazing broadcast quality graphics faster, smarter and easier.
Streamstar SCOREPLUS – HOCKEY Module
Professional live sports graphics, made affordable and fun again!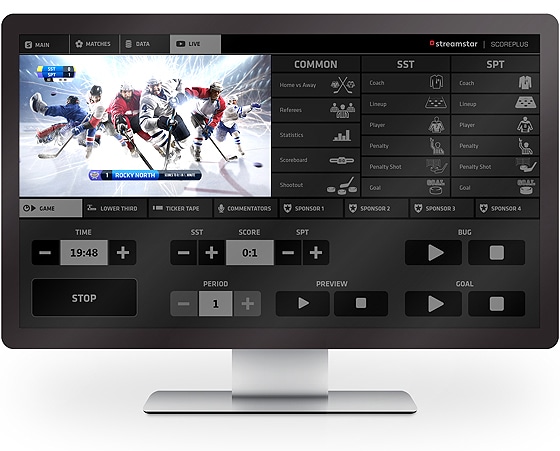 No more clunky software, no lenghty training, no outrageous costs. Streamstar SCOREPLUS HOCKEY is operated via a beautiful, dedicated, touch screen user interface that makes live sports graphics production easy and fun again.
Seamless integration with Streamstar live production systems gives you a complete live sports production chain, perfectly tuned to achieve professional results at a fraction of the cost of comparable systems.
Streamstar SCOREPLUS is NDI compatible – hence it can be used as a standalone live sports graphics solution with any NDI switcher.