You want to stream a high-school football match, a church service, a conference, a wedding, or maybe a cooking show on a local community TV…
You don't want to compromise on quality, efficiency, reliability, and professional features…
and You want to make it look great, just like a big network TV show.
Here's what you need!
Introducing Streamstar X2
Professional Live Production at a price everyone can afford.
Streamstar X2 is a powerful live production and streaming studio that delivers professional quality results without compromising anything. It offers high-end, professional features like Streamstar's renowned smart replays with slo-mo and instant highlights, PTZ remote camera control, advanced graphics capabilities, internal character generator, media playout with playlists, recording, streaming… and of course the brilliant, intuitive, touch screen user interface that makes every task a breeze.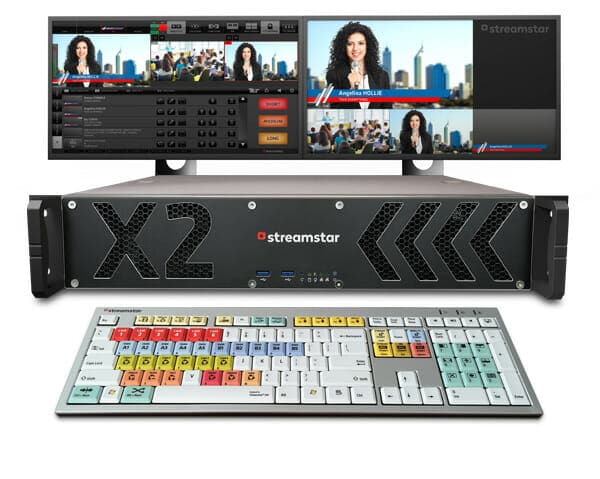 Features highlights:
Intuitive and easy-to-use touch screen user interface
2x HDMI input
2x IP Stream input
2x NDI input
NDI output
IP/NDI input for SCOREPLUS – scores, timers and titles app.
Integrated JVC camcorder remote control over IP
Integrated JVC PTZ camera remote control over IP
1x HDMI/Display port video out – multiview or PGM
up to 1080@25/30p streaming @ 10 Mbps max
RTMP & MPEG-TS simultaneous Output
Instant replays with slow motion playback on all cameras
Internal character generator with templates
4 layers of DSK – CG/images/animations with transparency
Instant, unlimited video clips playback – No transcoding!
Unlimited playlists – Media management/playout system
PIP and Split screen layouts
HD recording (PGM)
ISO recording (all cameras)
PGM stream recording (simultaneous)
2nd display multiview grid
Full featured audio mixer
Popular streaming platforms integration
Multicasting
JVC VIDEOCLOUD direct streaming integration
Facebook Live direct streaming integration