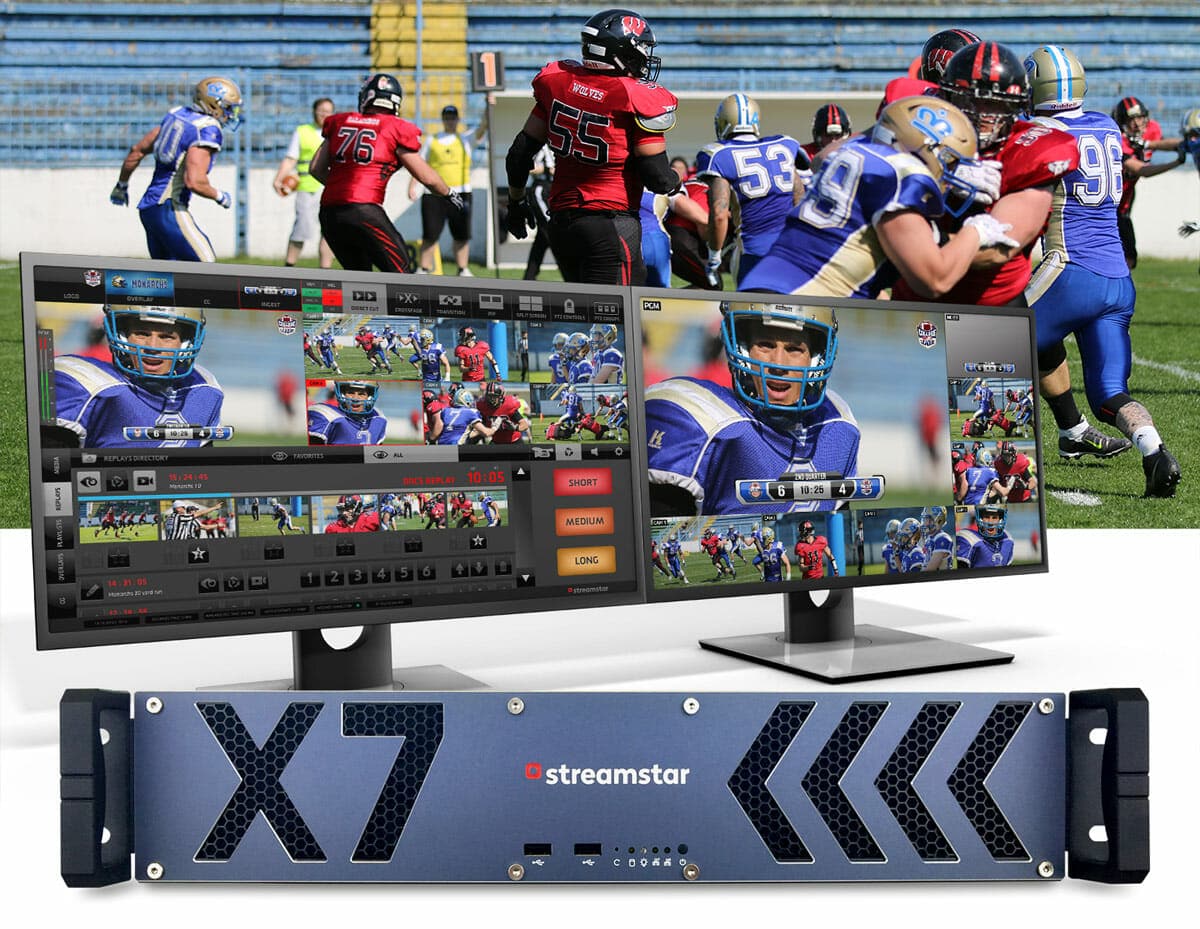 Without a doubt sports are the most popular video programs whether on TV or online and school matches are becoming widely popular. Viewership and streaming numbers online are increasing rapidly and future estimates are going through the roof.
One good example is the success of the NFHS Network, streaming high school sports games from more than 24 states. To get details on that read our case study here.
The situation has changed
The higher the demand for school sports programming is, the higher are the requirements on the production quality and content. No longer you can get away with just a consumer camera, a clunky software and a mess of boxes and wires. Today top quality production technology, SW/HW, cameras and a reliable streaming platform are essential for even an average live streaming production. Live sport streaming has become demanding and it's at the peak of the entire live streaming industry. To survive in it you have to be on the ball with the status of the streaming technology.
Here is a good overview of what you need to be on top of it.
Top quality live sports streaming production components:
up to 6 live cameras
fast and effortless switching
replays and slow motion capabilities
remote controlled PTZ cameras
live score sports graphics
cameras with long zoom lenses, high apertures and frame rates
All these requirements seem to be in sharp contrast with tight operating budgets of schools and universities.
A few tips to make the best of it:
If you are shopping for cameras, frame rate is more important than resolution
Go for a bigger chip size to avoid noise in low light
Stream 720@50/60p rather than 1080@25/30p. You will be perfectly fine because most of your audience will view the stream on small screens with slow speeds and adaptive bit rates and streaming 1080p is not going to make any difference. However streaming at a higher frame rate will greatly benefit the replays since slow motion will be a lot smoother at 50/60 FPS. Streaming 720p is absolutely sufficient for all modern display devices. Most of those "streaming academics" or self proclaimed "experts" who talk about 4K streaming are simply daydreaming and ignore whats out in the real world of streaming. They talk about ideal, imaginary situations you will never encounter in school sports productions. Even in broadcast television 4K is still a few years ahead.
Since there is a lack of trained, specialised staff a solution that produces professional results with the least amount of training necessary is the best way to go.
In a real live situation speed, clarity, efficiency and ease of use will always win.
Beware the pitfalls!
Many products advertisements claim all kinds of non sense like 1000 inputs and 4K capability but when it comes to a real production they hardly can manage 2 cameras and turn out to be a complete disaster even though on paper the specs look amazing. Its a bunch of … you know what. Do your research listen to people who actually produce live school sports and don't be fooled by advertising campaigns and promoters who never produced a live sports match in their life but they will pretend to be the experts and promise you anything to make a sell.
Some automated or robotic systems who claim to replace camera people may seem intriguing to you and their demos may look "oh so great" but they are mostly fake. You end up wasting a lot of money on stuff that is completely unusable for a reliable school sports operation.
You have a great resource and that is the students – let them experience a real production and learn how to operate a camera, a switcher and discover all about the workflow. They learn fast and you will find some incredibly talented people that will be of great help to you in your productions.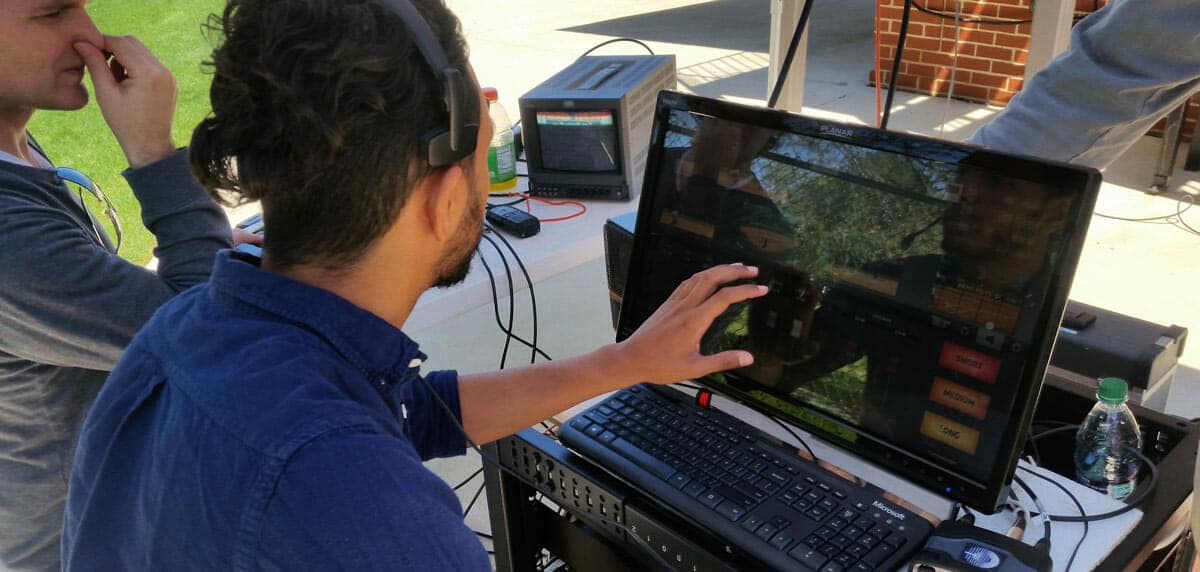 Distrubution
Let's talk about the choice of a streaming platform to distribute your final product. The selection of a streaming platform will have a great impact on how your production will be received by your audience.
There are many things you need to consider, but you always have to remember that your viewer's are the most important – not any tech hype and not your aspirations. You have to make your audience happy. If you do, they will come for more.
Looking for a platform think ahead and choose a platform that has a potential of growth and that is offering the best management tools. Paid platforms offer higher customization features, white label , better transcoding quality and better quality for the viewer. If you can afford it!
Free ones will cost you nothing but… but you also get what you pay for. That's the catch. You'll have to live with the limitations… practically no control over your content, lower encoding quality, their company logo and advertising will be inserted on your channel and perhaps the most critical issue is the low live transcoding quality and recording capacity / content availability after the live show.
The popular free platform YouTube offers a DVR – recording feature which gives you up to 4 hours of recording. The quality of the recorded material is nothing to write home about. Facebook even worse. But it's free and hence popular. For most people it will be the decisive factor so you'll use it to start with but eventually you will grow out of it as you get better at your craft and start to have higher aspirations in terms of quality.
CONCLUSION
Now you have a good overview so what's the solution and what will be our recommendation?
As you perhaps know Streamstar started as a production service, just like you. Way back in 2005 when most people never heard of live streaming we started producing live shows. After a few years and about 3000 live productions we realised that all the equipment available was too clunky and did not really do what we wanted. We decided to produce our own.
Today we build systems that are widely used all over the world by schools, universities, TV networks and professional productions to create content viewed by millions. Streamstar is the Nr.1 live sports production tool that clearly wins in all categories.
A cost effective, live production and streaming tool that is easy to use, and that will help you to raise you production to a professional level. One operator handles the entire production including replays and slow motion on every camera as well as internal live sports graphics. It features an intuitive touch enabled interface that puts everything under your fingertips. It provides fast control of all the features and enables you to do all you ever wanted smarter faster and easier.
I dare you to try it!
Download a free trial version here and see for yourself.
With Streamstar you will produce live sports as you always wanted.
With Streamstar you'll be THE NEXT LEVEL YOU.