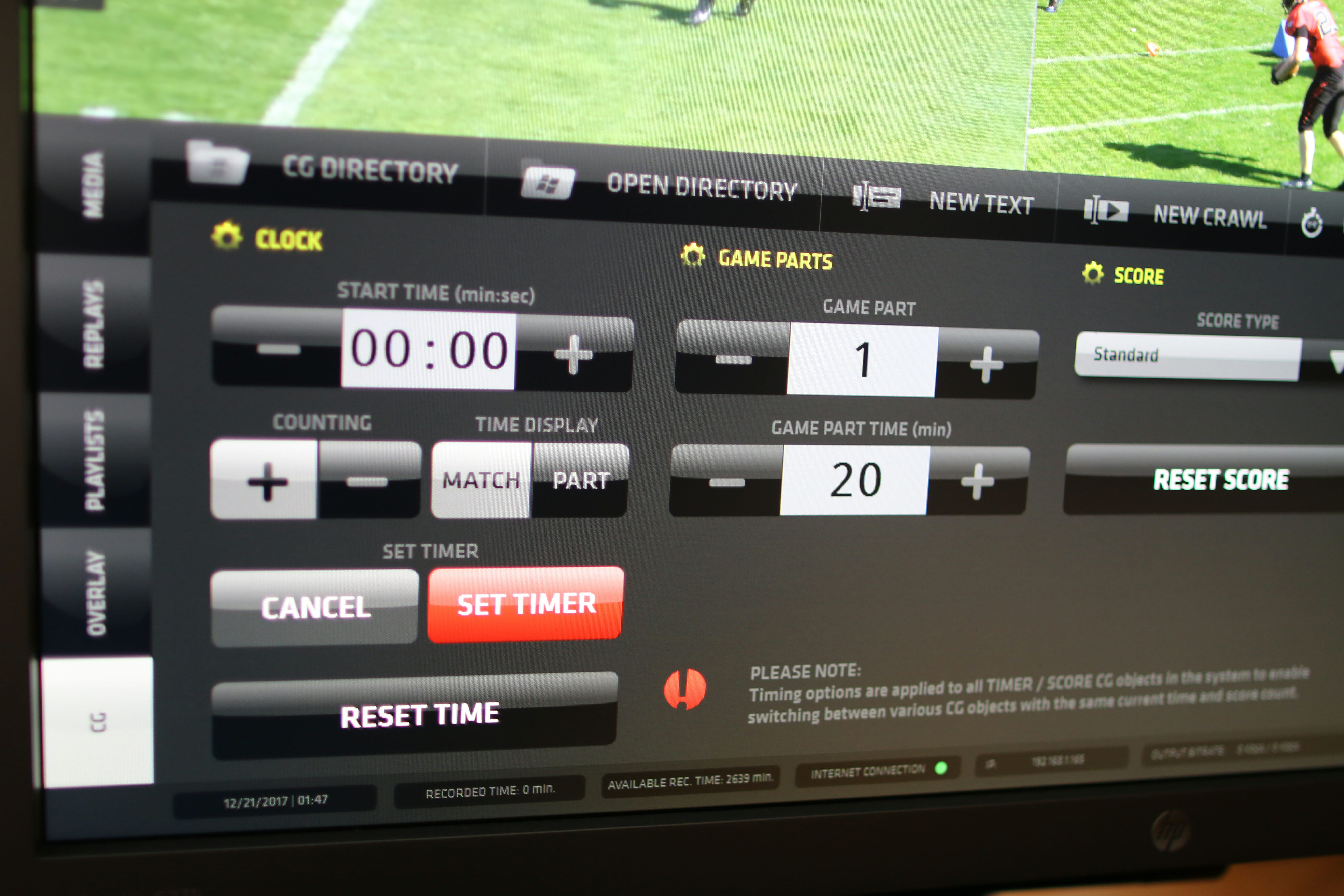 Regardless if you are a small production company, university sports club or a big TV station, these days viewers expect professional, broadcast quality programs. Even more so if you are in live sports streaming.
Streamstar SW is provided with extensive library of graphics templates for its internal sports graphics.
All TIMER/SCORE CG Layers are setup in exactly the same way as the layers in a regular TEXT CG with the difference that there are no input fields for the dynamically triggered text fields. A default value is displayed when setting it up to allow for positioning and formatting. The actual values will be controlled during the live game using the TIMER/SCORE CONTROLLER.
The controller is displayed inside the Settings Area – Replays Tab to allow simultaneous operation of the live game graphics controls as well as capturing of replays essential for any live sports productions.
TIMER/SCORE CG Layers:
BACKGROUND – a graphics file used as background for all the text layers placed above it
TEAM HOME and TEAM AWAY – regular text layers to be filled in buy user
SCORE HOME and SCORE AWAY – dynamic layers to indicate the current score
DELIMITER – regullar text layer to be used as a separator between the score indicator digits
PERIOD – dynamic layer indicating the current game period
CLOCK – dynamic layer – running timer display

Combining all these elements allows the creation of simple yet effective live sports graphics as you can see in the examples provided with the installation of Streamstar SW 4.5 free to be used in your productions.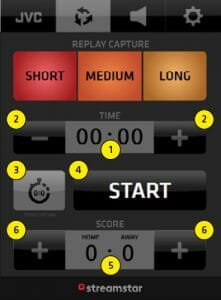 TIMER/SCORE CONTROLLER functionality
1. TIME Display indicates the current time based on the Start Time settings in the Timing Options Pane.
2. TIME ADJUST +/- buttons to both sides of the TIME display allow for manual time correction
3. TIMING OPTIONS HOTKEY SHOWS/HIDES the Timing Options pane
4. TIME START/STOP button Starts or Stops the clock
5. SCORE INDICATORS
6. SCORE ADJUST buttons
Increase the score by pressing the [ + ] on either side.
Press and hold the button for over 1 second turns it
to a negative icon [ – ] allowing to decrease a score.
Press and hold again to revert to [ + ]